This page contains links to a number of recommended resources for blogging, planning and creativity.  Some of these are affiliate links, which means that should you decide to purchase them I will receive a small commission.  I truly believe in all products I recommend here and would love you to get the benefit of investing in them.
My very own FREE guide to starting an online business in Australia, or indeed any business and setting up an online presence for it. Click the image for more information.
A website created by my friend Brigid that brings together a whole bunch of awesome resources any entrepreneur, particularly a female one, should gobble up, if they want to learn how to be better at what they do. And it saves me from listing them all here. Go check it out here.
Creativity Resources
Playtime with your Inner Muse
Seeking more creative juice? Want a deeper connection to your intuition? Ready to step into your authentic power? Experience the delightful wisdom of your inner muse through the magic of intuitive painting. No art experience or skills needed.
Through this e-Book/Playshop you'll:
Unleash your inner artist
Give yourself full-permission to make "ugly" art and get messy (it's actually quite fun and cathartic!)
Come face-to-face with your internal world of imagination, creativity, and personal growth
Allow yourself to take up space and be BIG!
Enter a safe, sacred space to work through blocks, emotion, and the unknown
Surprise yourself with how much fun it is to become a kid again!
Includes:
20 fun handwritten and painted pages to guide you through the intuitive painting process.
2 videos: one to welcome you to the playshop and one to explain the intuitive painting guidelines.
2 audios: one to help you get into your body and one to help you journal your reflections.
Lots of creative inspiration, exercises to get you unstuck, and colorful photographs to spark your inner muse.
A resource list for Expressive Arts and intuitive painting information.
5 follow-up inspirational prompts sent to your inbox to help you deepen your experience and learnings.
Blogging Resources
Everything you ever wanted to know about getting started with self-hosted WordPress, in my very own words. I've put everything I know in the simplest language I knew into this single guide. Find out more here.
31 Days to Build a Better Blog Course
Brought to you by the team at Problogger, this course is 31 days of lessons and actions for you do learn as you do.
Planning Resources
One Page Business Pan
This one page business plan template will help you map out your year and give you an overview of your business in one easy to understand diagram. Pin it above your desk to keep you on track throughout the year. Download the PDF version by completing the form below.
The Desire Map
I was lucky enough to see Danielle LaPorte speak at the 2014 Big Hearted Business Conference. Her approach to business is so unlike anyone else's that it fired me up to start using this book in my practice. This book will help you set your goals based on your feelings rather than money and other logistical measures. It's perfect for creative people and an ideal read when you're starting out in business. Get it now!
The Right Brain Business Plan
Do you know where your business is heading? Want a fun and creative way to plan for your amazing entrepreneurial success? Then come join the party at the Right-Brain Business Plan® Home Study e-Course. You'll roll-up your sleeves and craft a visual plan that lets your head know where your business is going AND inspires your heart to sing with joy. Plus, since it's a home study program, you get to start whenever you want and you get to do it all on your own time! Or buy the book as a stand alone guide to creating a business plan, your way. Get it now!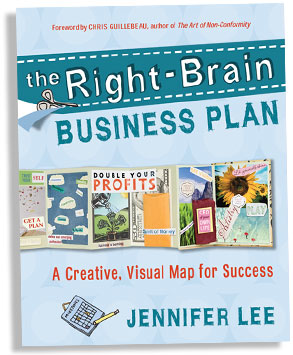 Webinar Management
Have you heard of WebinarJam? It's a webinar platform that's super easy to use. It automates all aspects of running a a webinar, including all your pre and post marketing and data collection. Choose from several registration templates and set up all emails when you're planning your webinar. The webinars are hosted on the WebinarJam server, so no more worrying about your bandwidth and crashing servers. All webinars are automatically recorded and can be used again and again. Find out more HERE.